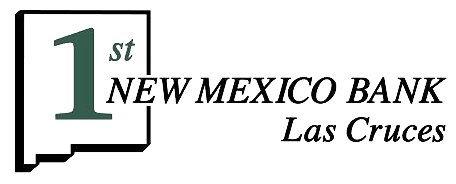 Go Paperless with First New Mexico Bank, Las Cruces eStatements
First New Mexico Bank eStatements are the latest and greatest way to take care of your banking. Our eStatement service is available through Online Banking for the delivery of your checking and savings statements. You receive a monthly email notification that your eStatement is available for viewing online.
It's a great way to maximize your convenience, enhance your security and easily manage all your account statements. Online eStatements look and function just like paper statements. You can view up to three years of account statements. You can print and/or save to your computer, disk or CD for easy sharing with your accountant or for long term storage.
Benefits of eStatements:
Convenient - Review your statements and view images of paid checks online anytime; day or night. eStatements can be accessed days before a paper statement would arrive in the mail.
Efficient - eStatements contain the same information as traditional paper statements.
Secure - Reduce the risk of statements being lost or stolen in the mail.
Safe - eStatements are protected by the latest security measures and are accessible within online banking.
Environmentally Friendly - Stay clutter free and conserve paper by accessing your statement online. You can download and save your statement on your computer in PDF format.
There is no charge for eStatements service.

Signing up for eStatements is easy!
Please view the eStatement Disclosure. Then simply log into your Online Banking account. You must be a registered user of Online Banking to take advantage of eStatements. Click on the 'Offers & Agreements' under the 'User Settings' button located on the left menu bar.
You will then be prompted to:
Agree to the eStatement Disclosure Agreement.
Validate that you can view a PDF document on your computer.
Validate your email address by entering a security code that will be emailed to you.
Choose your accounts you wish to setup on eStatements.