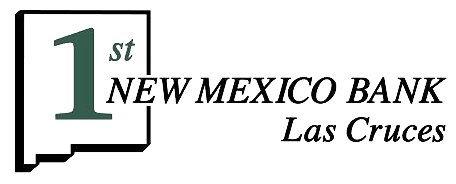 General Information
First New Mexico Bank, Las Cruces opened the doors to true community banking in November 2001. As your community bank, we are proud to offer personalized banking solutions to help you achieve your financial goals. With our wide range of banking products and services, we are here to build full-service relationships with our customers. We live here. We work here. We make decisions here. We invest in individuals and businesses who want to see our local neighborhoods prosper.

Helpful Tips
Keep your money and personal information safe.

Never give your account number by phone or email.

We will never ask for your account information by email.

When in doubt, contact us to verify any requests.

Financial Information
We're proud of our service to the community and our community bank status. If you would like in-depth financial information on First New Mexico Bank, Las Cruces, please contact us.
First New Mexico Bank, Las Cruces Statement of Condition December 2019.