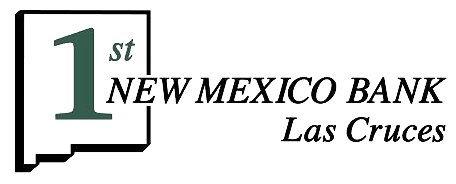 Bill Pay offers you the convenience of paying your bills automatically each month with the click of your mouse.
First New Mexico Bank, Las Cruces Bill Pay allows you to be in control of your money! You can schedule recurring payments, one-time payments, or future payments days, weeks, or even months in advance. Secure email alerts can be sent to you reminding you when important bills are due or when payments have been sent.
Convenience
Receive and pay your bills electronically all in one place and all from your computer or smartphone.
Control
Schedule single or recurring payments in just a few steps and you'll never worry about missing a bill or late fees.
Savings
Save money every month on stamps and trips to the post office by making payments online
Security
Protect against check fraud with electronic payments instead of unsecure mail.
Simplicity
Track your payments history at a glance and view all of your future scheduled transactions.
Confidence
Check your account status to securely confirm that payments have cleared your account.
Pay a Person at a Glance!
Sign up for Bill Pay Services Today!
The bill pay service is available within your online banking account
What it is:
This convenient feature allows you to make person-to-person payments electronically to anyone you choose, such as a landlord, baby-sitter or relative.
How to get started:
When you add a payee, simply choose to add an individual rather than a company or business.
How it works:
Choose the option that is best for you.
Provide the recipient's bank routing number and deposit account information and a payment is sent electronically.
Provide the recipient's mailing address and a paper check will be mailed.
A new level of simplicity:
Sending money electronically is faster, more convenient and more secure than sending a check. However, even when a paper check is necessary, online bill pay can save you time and money because we mail your check directly to the recipient; saving you a trip to the post office.